Group rates are available with advance reservations only for self-guided groups of 15 or more. To make a group reservation, call 216.862.8803 x 7715 or email.
For a convenient summary of our rates, refer to our group profile sheet.
For groups, we require a single payment transaction (each client/student may not pay individually) 48 hours in advance. We can provide an itemized receipt.
Group Tour Add-ons
Add a splash to a group visit (up to 30 participants) with one of these unique experiences. Please note these options are based on availability: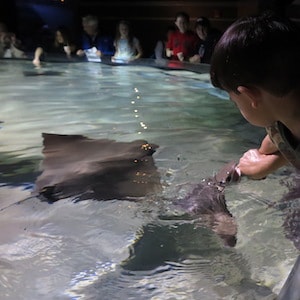 STINGRAY FEED
Additional $2 per person
Offered Monday – Sunday at 3pm and Saturdays at 11am
Hand feed the stingrays. Don't worry — our team will walk your group through the proper technique. Experience the unforgettable tickly feeling when a stingray sucks a fish right out of your hand!

Participants handle raw seafood. Please notify the Aquarium of any allergies when you schedule your experience.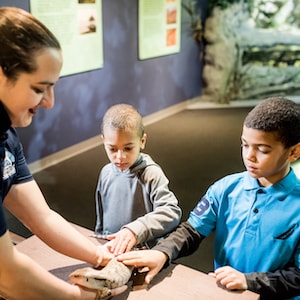 ANIMAL ENCOUNTER
Additional $30 per group
Let one of our animal care experts guide your group through an up-close lizard or reptile encounter.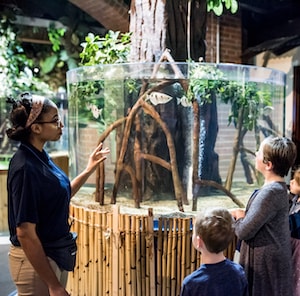 TOUR GUIDE
Additional $30 per guide
Add an experienced tour guide to provide your group with expert knowledge of the species in our care.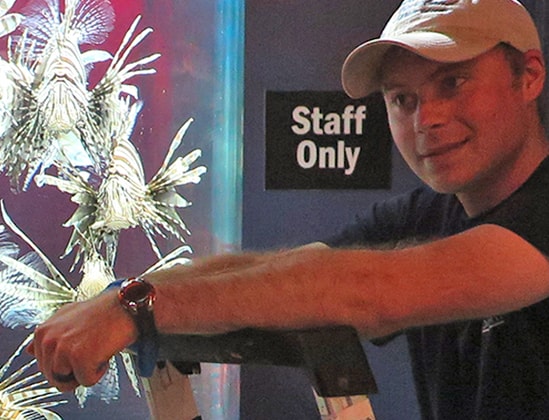 BEHIND-THE-SCENES TOUR GUIDE
Additional $90 per group 
An experienced tour guide will take your group behind-the-scenes to get a glimpse of what goes into maintaining the Aquarium.
Self-Guided Group Rates
Adult (age 13+)
$14.95
Child (ages 2-12)
$8.95
Special Needs Group Rates
All Ages
$8.95 per person
Paid Personal Care Attendant
Free
Looking for a guided field trip experience for your school?
Need to include a bite to eat for your group?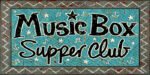 We have a delicious, affordable package with Music Box that is perfect for any group! Music Box shares our parking lot and is just steps away.
Bus Parking
Parking in the lot adjacent to the Powerhouse is FREE for buses and motor coaches, and drivers may use any space they like. A pull-through area located in front of the Aquarium entrance is available whenever Lolly the Trolley tours are not boarding.
If they don't have eyelids, how do fish get a little "shuteye"? Find out if fish sleep when you spend the night at the Aquarium.
Overnight Stays