Best Places to Dive: Kona, Hawaii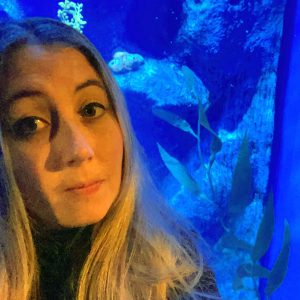 Kona, Hawaii is world-renowned for two things: Kona coffee and swimming with manta rays at night.
While the mineral-rich volcanic soil and mild climate of Kona has created one of the most expensive coffees in the world, a bit of Pavlovian conditioning has led to a reliably fantastic dive site. With wingspans of up to 23 feet, manta rays are gentle giants that have become drawn to the underwater light systems that both light up their viewing site and attract the plankton they feed on. This little spot on the western side of the Big Island may be known for its night dives with manta rays, but aquarist Mallory Haskell also reported terrific daytime diving as well.
"The water was crystal clear and we saw soooooo many of the colorful tropical fish you think of with reefs," Mallory says. She also swam with spotted eagle rays and white tip reef sharks in Kona's waters. Mallory worked at Greater Cleveland Aquarium from 2012 to 2014 and was certified to dive during this stint. She returned to the Aquarium in 2018.
As if Hawaii didn't have enough going for it, the steep slopes of the volcanic mountains plummet prodigiously just off the coast of Kona. Three miles offshore, the water is 1000 fathoms deep. For those who haven't read Moby Dick recently, a fathom is equivalent to six feet, meaning there's a mile drop off and a bevy of large pelagic fish near shore – marlin, wahoo, sailfish and mahi mahi included.
Kona, Hawaii is the seventh in our weekly series of the Aquarium dive team's favorite dive locations. Stay tuned for the remaining three destinations and suggest somewhere new we might want to explore.