Hours
The Aquarium is closed temporarily as a precautionary measure during the COVID-19 crisis. We apologize for the inconvenience. Get updates on our reopening here or sign-up for e-communications.
Usually, the Aquarium is open 7 days a week, 10am – 5pm (last admission is sold at 4pm) and open every day except Thanksgiving and December 25th — 363 days a year! December 24th hours are 10am – 2pm.
Parking
In addition to street spots, there is a cash-only parking lot in front of the Aquarium. Prices are subject to change without prior notice but typical rates are $3 – $6.
Parking is always FREE during visits for Greater Cleveland Aquarium Annual Passholders.
Directions
We are located in the historic FirstEnergy Powerhouse on the West Bank of the Flats, just a short walk from Shooters on the Water, the Nautica Queen, Jacobs Pavilion at Nautica and much more. For additional assistance with directions, please call 216.862.8803.
Coral Cove Gift Shop
Cap off your visit with a keepsake! Our on-premise Coral Cove Gift Shop operated by Wildlife Trading Company offers books, clothing, colorful plush toys and other mementos.
Hours coincide with Aquarium.
Passholders receive 10% discount on all purchases.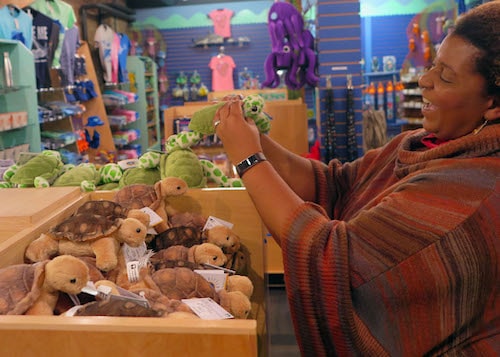 The Nautica Café
Conveniently located directly above the Aquarium, the Nautica Café offers family-friendly fare such as personal pan pizzas, hotdogs, deli sandwiches and more.
Monday – Friday: 11am – 3:30pm
Saturday – Sunday: 11am – 4:30pm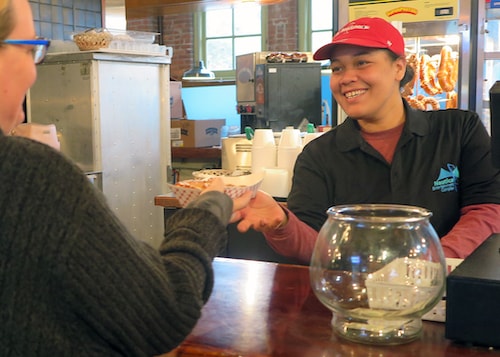 The Aquarium is wheelchair accessible. Strollers are permitted.
We have wheelchairs for use on a first-come, first-served basis. There is no charge, but we ask that you leave your ID. The Greater Cleveland Aquarium is completely wheelchair accessible.
If a member of your group has a visual impairment and needs a guide, we are happy to provide one at no additional cost with your general admission. To reserve the guide, please call 216.862.8803 and dial 0 for the office assistant at least 2 weeks in advance of your visit.
Frequently Asked Questions (FAQ)
Have another question? Check out our FAQ for more guest information.
As a community partner, the Greater Cleveland Aquarium donates tickets to Northeast Ohio nonprofits to be used as fundraising prizes or auction items.