Nature. It's a curious thing.
Did you know a blue-tongued skink can break off its tail to escape a predator? That a stingray's skeleton is made of cartilage? That snowflake eels have a second set of jaws in their throats? That some sharks lose as many as 30,000 teeth in their lifetimes?
See these and other intriguing aquatic animals at the Greater Cleveland Aquarium. Travel the globe to discover more than 1400 amazing animals in 9 immersive galleries that include an 11,000-gallon stingray touch pool and an 175-foot seatube.
The Aquarium is open 363 days a year, 10am – 5pm. We're located in the historic FirstEnergy Powerhouse on the West Bank of the Flats, a short drive from the Rock and Roll Hall of Fame, West Side Market and A Christmas Story House Museum, and just steps away from the Nautica Queen Cruise Ship, Shooters on the Water, Jacobs Pavilion at Nautica and other attractions.
Click here for hours, directions, parking, food options and other frequently asked questions.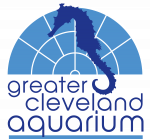 General Admission:
Adult (age 13+)
$ 19.95
Child (ages 2-12)
$ 13.95
Under 2 & 100+
Free
Explore Our Tickets & Packages
Admissions & Discounts
Getting Here: