Education & Field Trips
We offer entertaining, engaging and exciting programs for students of all grade levels. Our goal is to educate student guests in an imaginative way about the freshwater and saltwater aquatic environment and how our actions affect it. Our programs are aligned with the Common Core and the 2010 Ohio Revised Science Standards, and we employ hands-on and inquiry-based teaching methods whenever possible to engage your students.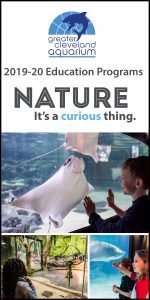 More Information
Looking for pre- and post-visit activities, field trip planning checklists or curriculum guides?
Interested in cost and availability?
I came to the aquarium for a field trip! It was a blast and the kids were so excited. Mr. Matt was fun and knew how to entertain the students.