In 2010, the United Nations recognized the right to safe and clean drinking water as a human right. This means that everyone in the world should have access to safe water for personal use including for drinking, personal sanitation, washing of clothes and food and personal and household cleanliness.
In the United States, it is hard to imagine not having access to clean water. In fact, when a community does face a water challenge like in Flint Michigan or the droughts in California, the incidents make big news.   Worldwide, however, 2.1 billion people live without safe water at home.  And 4 billion people (nearly 2/3 of the world's population) experience severe water scarcity during at least one month of the year. More than 700 children younger than five die every day from diarrhea linked to unsafe water and poor sanitation.
World Water Day was first celebrated in 1993 after the United Nations Conference on Environment and Development recommended an international celebration to focus attention on the importance of freshwater. In 2016, more than 500 events taking place in 1000 countries celebrated World Water Day.
At the Aquarium, we obviously support any effort to advocate for clean water. Without clean water, animal life could not thrive. So it was a natural fit when Drink Local Drink Tap invited us to partner for their World Water Day Celebration several years ago. The mission statement for Drink Local Drink Tap reads, "Inspiring individuals to recognize and solve our water issues through creative education, events and providing safe water access to people in need." Since DLDT's formation, the organization has provided safe water to 21, 311 people in Uganda and sanitation to 6,994 people, collected 6,255 pounds of trash from Edgewater Park and celebrated World Water Day with 12,679 students through their Wavemaker Program.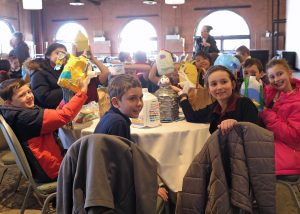 The Wavemaker program is an opportunity for students to take action locally and globally to care for shared water. Becoming a wavemaker means you:
Stop using one time use plastic water bottles and commit to a reusable water bottle;
Volunteer at a beach cleanup in your area or host your own beach clean-up;
Participate in 4 Miles 4 Water, a walk/run to raise funds for DLDT;
Do your best to reduce water waste;
Raise funds to help students in Uganda access safe water;
Arrange for DLDT to come to speak at your school, church, temple, community, etc.
Drink Local Drink Tap celebrates all the students who have chosen to be wavemakers each year with a gathering at the Greater Cleveland Aquarium. Students have the chance to learn about each other's projects and to tour the Aquarium, through support from the Northeast Ohio Regional Sewer District.
This year, the Aquarium is celebrating World Water Day all weekend long. From Friday March 22 through Sunday March 24, we'll have a clean water scavenger hunt with the chance to win an annual family pass, and $5 off regular walk-in admission with the code BeATourist19. The first 150 guests on World Water Day (March 22) receive a pin set commemorating the Cuyahoga River, courtesy of Northeast Ohio Regional Sewer District. Come help us celebrate clean water!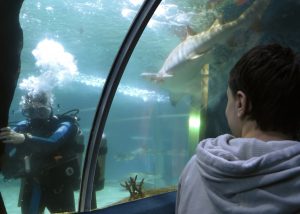 -Tami Brown