Reaching the 2-Million-Mark During 10th Anniversary Year
On April 26, Greater Cleveland Aquarium welcomed its two millionth general admission visitors, the Britt family. The Aquarium first opened its doors in the Nautica Waterfront District in January of 2012. Almost exactly a decade later, its curation team announced a major achievement—the rare births of weedy sea dragons, an event few aquariums in the world have witnessed. "These hatchlings were a great way to kick-off our tenth anniversary year," says curator Ray Popik, one of five team members who have been with the Aquarium continuously since its construction. "This is a major accomplishment and we're excited to document and share what we learn from the process with others focused on the care and conservation of this delicate species," he says. Today the Aquarium is home to 3,600 animals representing 250 fresh and saltwater species.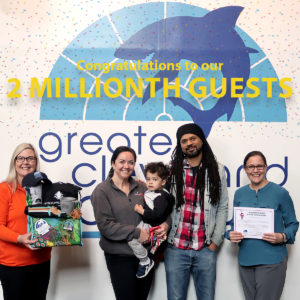 Exhibit design has everything to do with the Aquarium's success, both rearing sea dragons and in terms of the destination's unique appeal but retrofitting a historic brick powerhouse with an aquarium is not without its challenges, explains Senior Maintenance Technician and Exhibit Diver Mike Gorek, another employee who's been on board since "before there was water." "Finding opportunities in the limitations and figuring out how to create viable, one-of-a-kind habitats from scratch the way we have with the giant Pacific octopus arch or the Tropical Forest aviary is a fun and rewarding part of my job," says Gorek. Guests who have not visited Greater Cleveland Aquarium since it opened will discover that its galleries have been rethemed and only a single exhibit—the red-bellied piranha habitat—has not been reimagined in some way.
Species diversity, immersive décor, child's eye-level exhibits and 360-degree views have solidified the downtown Cleveland attraction as a family friendly tourist destination which in turn has contributed to the growing vibrancy of the community, asserts Office Assistant Neda Spears. When Spears began as an Aquarium Guest Experience Associate back in 2012, there wasn't nearly as much activity in The Flats and the adjacent Gordon Square, Hingetown and Ohio City neighborhoods. "Now there are any number of terrific eateries, breweries, shops, performance venues and trails for our team, guests and 15,000 Passholders to enjoy," says Spears.
Hired in 2011, Dive Safety Coordinator Halle Minshall heads up team of scuba divers responsible for underwater cleaning, husbandry maintenance and guest engagement. While she loves being in exhibits with sharks and stingrays every week, she feels rewarded by looking out through the acrylic to see visitors making a connection with the aquatic world. "We encourage guests to consider how their actions can impact waterways and the natural habitats of some pretty amazing animals," says Minshall. "I also hope we can share some of our passion for the water and inspire our guests to learn more about biology and marine science, and maybe even learn to scuba dive."
While conservation and education are at the heart of the mission-driven institution, the two-million-mark doesn't include 11,000 annual school students or countless special event guests. "We would have reached two million guests much earlier had it not been for the pandemic," General Manager Stephanie White acknowledges. The Aquarium experienced a three-month COVID closure and nearly two years of limited capacity and timed entry to facilitate social distancing. "We're grateful for the support of the community and very proud of the creative and dedicated team that has helped us weather the challenging times."