Best Places to Dive: Forfar Field Station, Andros Island, Bahamas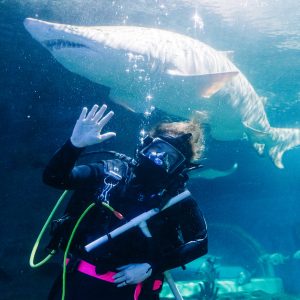 We dive for a variety of reasons. To commune with nature, to unwind, to explore. Our "pale blue dot," as astrophysicist and author Carl Sagan pointed out, is just a "very small stage in a vast cosmic arena," but perhaps by diving in we can learn to better appreciate that fragile ecosystem largely invisible to us as we commute between school, work and the grocery store in our busy daily lives.
Greater Cleveland Aquarium diver Stephanie Quinn took a formal approach to learning about our dot when she enrolled in a study abroad program during her senior year at Ohio University. Stephanie and her future husband spent a week at the Forfar Field Station, an educational and scientific non-profit organization that has served as a resource to over 50,000 thousand students ranging from middle school to graduate students and researchers. Most field study trips last a week and involve groups of 10-45 students with a focus on marine science, geology, botany, climate change or other scientific fields including social science. Imagine a classroom along the shoreline where students put their learning to the test by plunging into their environment.
"Forfar Field Station is a rustic former dive resort nestled in a beachfront coconut grove on the east coast of Andros Island," according to their website. The largest of the Bahamian islands, Andros is host to rich diving opportunities for the students, including "coral reefs, offshore cays, sea grass beds, sandbars, blue holes, subtropical terrestrial habitats, Bahamian settlements and more." The waters nearby are filled with colorful reef fish, including blue tang, angelfish, parrotfish and butterflyfish.
"It was the best diving," Stephanie recalls. "Crystal clear water. Great biodiversity. We dove both there (Forfar Field Station) and Small Hope Bay during our study abroad. We then went back to Small Hope Bay for our honeymoon."
Stephanie joined the Aquarium's dive team in 2015 and has been a certified diver for 22 years. She lost her logbook, but estimates she has roughly 75 dives outside of the Aquarium. According to Aquarium Assistant Dive Safety Coordinator Matthew Ballish, she has more than 1350 dives in the habitats here.
Sagan, in his well-known speech, said that astronomy was a humbling experience. "To me," he said, "it underscores our responsibility…to preserve and cherish the pale blue dot, the only home we've ever known." These words were meant for the study of the stars but could apply just as well to those that look under the sea.
Forfar Field Station is the first in our weekly series of the Aquarium dive team's favorite dive locations. Stay tuned for the rest of our list or share your favorite place to dive with us.
– Ray D.