10 Holiday Things to do with your Family in Northeast Ohio
The holiday season is officially here! From cookie baking to movie marathons and more, it's a very exciting time of the year and a great time to spend with loved ones. This winter, don't miss out on the opportunity to start a new family tradition, continue an old one or treat your family to a festive surprise. Here are 10 family-friendly seasonal adventures happening in your own backyard!
Glow  
Glow is an indoor showcase of decorated trees, gingerbread houses and other beloved holiday traditions. Cleveland Botanical Garden is located at 11030 East Boulevard in Cleveland's University Circle.
Castle Noel
You can visit Castle Noel any time because this Christmas attraction filled with Christmas movie costumes and props, vintage toys, store holiday window displays and even indoor snow is open year-round. Castle Noel is located at 260 South Court Street in downtown Medina.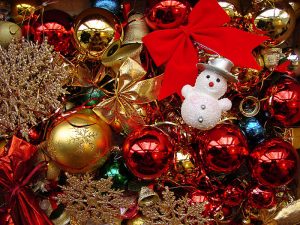 Ice Skating Outdoors
Lace up your skates and bundle up for the great outdoors! The Ice Rink at Wade Oval is located at 10820 East Boulevard in Cleveland's University Circle.
Tobogganing   
Looking for an "outdoorsy" adventure?  The Cleveland Metroparks 700-foot twin toboggan chutes located at the Chalet in Mill Stream Run Reservation (16200 Valley Parkway, Strongsville, Ohio) are open throughout the winter.
Kringle's Inventionasium
This inventive and interactive theatrical experience is your opportunity to help Mr. Kringle and his team prepare for the holidays. Kringle's Inventionasium Experience is located in downtown Cleveland's Tower City Center.
Scuba Claus & the Seas'N of Play at Greater Cleveland Aquarium
Expend your seasonal spirit while completing activities about movement and learn about some pretty amazing animal traits along the way. On Fridays, Saturdays & Sundays (1 – 2pm) you can snap a selfie with Scuba Claus underwater in a 230,000-gallon shark exhibit while he visits the sandtigers, stingrays, eels, pufferfish (and guests!) on his nice list.  An activity book, temporary tattoo, scavenger hunt and Scuba Claus visit is included with general Aquarium admission during the Seas'N of Play. The Greater Cleveland Aquarium is located on the West Bank of the Flats in downtown Cleveland at 2000 Sycamore Street, Cleveland, Ohio.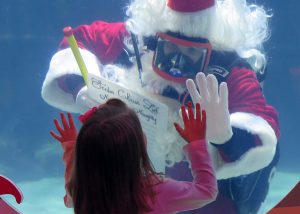 Magic of Lights
Enjoy magical lights in a mile-long display that includes Candy Cane Lane, Reindeer Crossing, the Enchanting Tunnel of Lights and more. The Magic of Lights is in a new location this year at the Cuyahoga County Fairgrounds, 19201 E. Bagley Road, Middleburg Heights, Ohio.
A Christmas Story House
Many know and love A Christmas Story and consider watching the coming-of-age movie an annual holiday tradition. Fans can make a pilgrimmage to the A Christmas Story House and Museum where the movie was filmed. This pop culture destination open year-round is very near the Aquarium (so make it a two-fer) at 3159 W. 11th Street, Cleveland, Ohio.
A Classic Christmas Play at Playhouse Square
Playhouse Square has performances of A Christmas Story and A Christmas Carol happening through December 23. Cleveland's theatre district (festooned with a massive outdoor chandelier) is located at 1501 Euclid Avenue.
Cleveland Orchestra Christmas Concert  
Join the Cleveland Orchestra and Chorus for a holiday concert, perfect for families. The holiday concerts include guest choruses and sing-alongs. Severance Hall is located at 11001 Euclid Avenue, Cleveland, Ohio.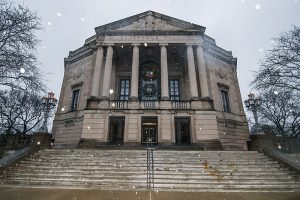 Happy holidays!
– Tori Pishkula