A Spin on the Laundromat: Moon Jellyfish
You may wonder as you walk through the Greater Cleveland Aquarium's Coastal Boardwalk Gallery why there is a giant washing machine. As you get closer, you will see what is gently swirling in the fanciful exhibit—moon jellyfish. The decision to showcase these animals in such a way came from Director of Artistic Production and Operations, Bruce Orendorf.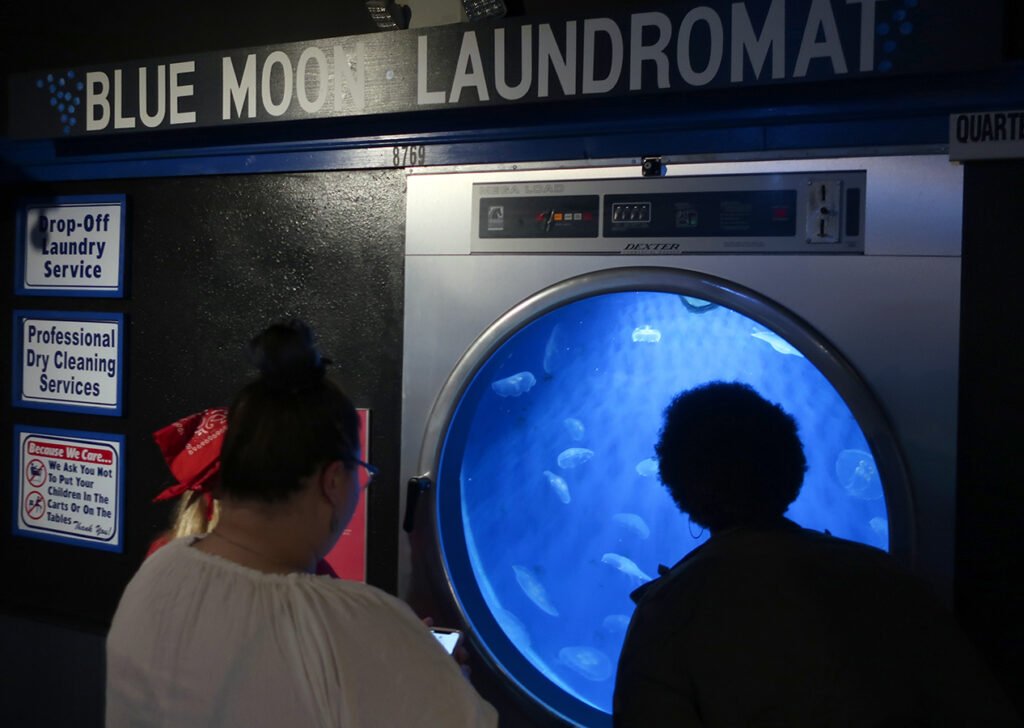 Bruce had a few ideas about how to fit the new exhibit in with the gallery's deliberately kitschy boardwalk theme. The jellyfish exhibit uses a circular kreisel tank that causes the water to flow in a circular motion and enables the animals to rise and fall, but moves slow enough so that they are allowed to move freely as well. In thinking about the exhibit's relationship to a boardwalk Bruce thought, "Cotton candy machine?", but ruled that out as that kind of machine operates horizontally, not vertically. Then he thought, "You know what that looks like? A washing machine."
The moon jellyfish (Aurelia aurita), which gets its name from four internal gonads that have a moon shape, cannot swim, so their movement in the water relies on currents. They use currents to move through the water to find their prey, which consist of zooplankton, fish eggs, larval crabs and shrimp. Here at the Aquarium, their diet consists of artemia nauplii, a form of brine shrimp.
"I want people to find them as interesting as I do," said Aquarist Bethany Hickey, who is in charge of the exhibit, and who has a particular interest in invertebrates. Hickey says that ensuring that the temperature, as well as the water currents, mirror that of the environment these animals live in, is crucial to their survival. "They are very susceptible to any environmental changes, and that necessary stability is somewhat challenging to maintain in the exhibit," she said.
After landing on a name, Bruce built the façade in-house and had signs made that were similar to what you would see in a real laundromat, but would also work within the Coastal Boardwalk theme.
Now you know some of the thought and planning that goes into creating a new exhibit. Next time you visit, check out the jellyfish in the Blue Moon Laundromat.
– Neda Spears