Coral Reefs Need Our Help!
One of the most biodiverse ecosystems in the world, coral reefs are in serious peril. Coral reefs take up about 1% of the ocean floor but are home to 25% of all ocean species including more than 4,000 species of fish.
What is a coral reef?
Coral reefs are colonies of individual animals called polyps. The polyps have tentacles to feed on plankton at night and they play host zooxanthellae—symbiotic algae that live within the coral's tissues and gives them color. The algae need carbon dioxide and waste products from the coral for photosynthesis. In turn, through photosynthesis the algae nourish the coral with oxygen and organic compounds. The coral uses these compounds to synthesize calcium carbonate (limestone) with which it constructs its skeleton.  This skeleton contains bands, like tree rings, that record environmental changes in temperature, water chemistry and water clarity.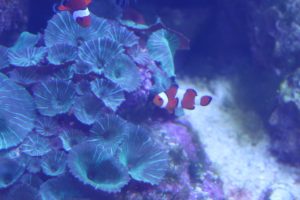 Why should we care about coral reefs?
Coral reefs are also known as the speed bumps of the ocean. These structures act as a natural barrier, helping to slow down and shrink waves hurtling toward the shoreline and thereby protecting coastlines and the 200 million people living along the coasts from hurricanes.
We receive many other benefits from coral reefs. Stationary animals, coral are constantly evolving chemical defenses as protection from predators.  Scientists are developing new medicines from the coral-produced compounds to help treat cancer, arthritis, bacterial infections, Alzheimer's disease, heart disease, viruses and many others.
Coral reefs also provide us with food and construction materials. They also contribute heavily to the economy via tourism.
Why are coral reefs endangered?
Believe it or not coral reefs can get stressed out! There are a variety of different factors that contribute to the stress of coral reefs. For example, rising temperatures globally causes coral bleaching. Also, additional carbon dioxide oceans absorb every day contributes to increased acidification which reduces the water's ability to carry the calcium carbonate that corals need to build skeletons.
Additionally, overfishing is changing the coral reefs ecosystem with anchors and nets destroying the natural habitat.  And when sediment and other pollutants settle on coral reefs it can speed the growth of damaging algae and lower overall water quality. With lower water quality the sunlight may not be strong enough to reach the zooxanthellae to go into photosynthesis.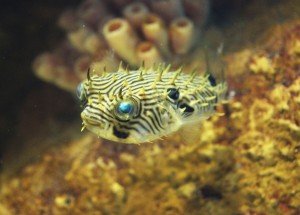 How can we help?
Scientist are working to find some solutions, but all of us can join the effort to help coral reefs by reducing our carbon footprints. Try recycling or using more reusable products. Join the skip-the-straw movement reducing single-use plastic waste. Only eat fish sourced sustainably. Or, donate to organizations and support companies committed to cleaning up our oceans.
-Crystal