Species Highlight: The Argentine Tegu
Commonly known as the giant tegu, the Argentine black-and-white tegu is the largest species of tegu lizard. We are going to take a closer look at one of the Greater Cleveland Aquarium's newest residents and learn about its habitat, diet and even a unique characteristic with aquarist Brenton Maille.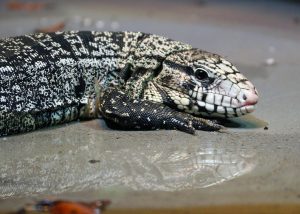 Adaptability is Key
Did you know the Argentine tegu can survive in a range of habitats? From rainforest to scrubland, these tegus utilize the habitats available to them. Because tegus are very adaptable, they have resisted deforestation, which is a very common threat to species in the rainforest. "Tegus utilize different habitats and different areas of those habitats as well," says Maille.
Many people know of this tegu species because it's considered an invasive species in Florida, meaning it is not native to that area. According to Brenton, it is believed that the Argentine black-and-white tegu may have become invasive to Florida due to the pet trade. While the tegu is tiny and pretty adorable when young, they can eventually reach lengths of up to 4 feet which can be more than some pet owners are ready to handle. "Once a tegu started to get too large for a home environment people would release them into the wild, making them invasive species," Maille says.
Maintaining a Balanced Diet
So what does a tegu eat? "In the wild, their diet changes throughout their life," Maille says. When born, they are predators, eating mostly birds' eggs and small insects. Once tegus get older and grow they switch to mostly omnivorous lifestyles, although they may still occasionally catch small rodents. They are generally good hunters and scavengers in the wild.
The Aquarium's animal care staff works hard to make the diet balanced and reflect similarities of the wild. According to Maille, the Aquarium tegu receives "eggs, fish, rats and a mix of apples, bananas, pears and greens."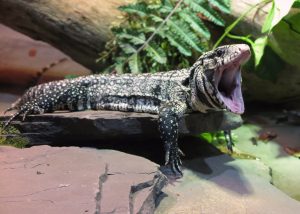 Competitive Edge
Most people know that cold-blooded animals rely on outside temperatures to determine their body temperature. While the tegu is an ectotherm, it has the rare ability to raise its own body temperature by about five degrees in certain circumstance. While this is interesting and unique, there must be a reason . . . right? That reason is for breeding season. "Males compete better and females can produce and lay eggs faster," Maille says.
Nature. It's a curious thing. Learn more about the Argentine black and white tegu and other reptiles on your next visit to the Greater Cleveland Aquarium.
– Tori Pishkula