Diver Costume Construction
The dive team loves participates in many GCA holiday events including Halloween and Scuba Claus. Construction of the underwater props and costumes for these dives needs to ensure that both the diver and animal safety is always taken into consideration. Marine animals are very aware and often curious about changes in their environment and will investigate, pick at and if given the opportunity, eat anything new. We see this every year with our Halloween pumpkins. Within minutes of being placed in an exhibit they will be picked, ripped and eaten. Because of this anything we build and take into an exhibit that can be eaten needs to be approved be the curator. Props need to minimize dangling straps, threads, strings and anything that an animal can remove. Care must be taken to not have anything come off the costume such as metal which can scratch the acrylic or sequins that may be ingested.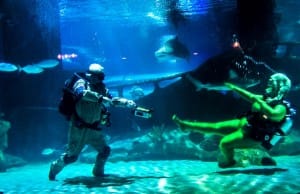 Construction materials used for props need to chosen to not cause an adverse reaction in the exhibit. Some metals, copper in particular, can be toxic to the animals and should not be used. PVC and approved adhesives are best as these minimize the potential to upset the delicate chemical balance in the environment. Paints and coating must chosen with the same consideration. Paints and coatings must also resist flaking and peeling for the same reasons.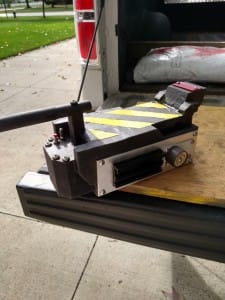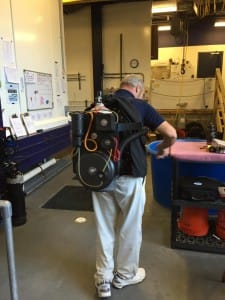 The goal of costumes is to enhance the guest interaction, particularly our younger guest. Planning for these events starts months in advance. Choosing a theme that is relevant and easily recognizable is debated and finally decided on. Once that decision is made we brainstorm what costumes and accessories will enhance the show. Often costumes can be purchased but often we will construct accessories. Last year's "Ghost Busters" Halloween costumes were purchased, but the additional accessories, such as the Proton Pack and Ghost Trap were made using the guidelines outlined above. Using PVC pipe to create swords and nunchucks enhanced the Teenage Mutant Ninja Turtle costumes.

Scuba Claus is a major event for the Dive Team. The addition of the full face mask with underwater communications adds to the experience but also contributes to a more complicated and time considerations in getting divers safely in their gear and in the water. Did you know it could take up to 15 additional minutes for Scuba Claus to get dressed before he makes his trip down to see all the guests? Because the team makes so many dives in a short time, the costume requires constant attention and repair.