Seadragons: The Seahorse's Unique Relative
Seahorses are one of the most well-known and recognizable creatures in the ocean. Their long snouts and curly tails are clear giveaways of their identities. However, these characteristics are not exclusively associated with seahorses. Located in the waters of southern Australia lives an obscure relative of the seahorse: the seadragon. Seadragons are in the same family as seahorses (Syngnathidae) but they are different in a number of ways. Seahorses are quite common and are found in tropical and subtropical waters all around the world, while seadragons are exclusively found near Australia. Also, there are many species of seahorses (around 47) and only three species of seadragons.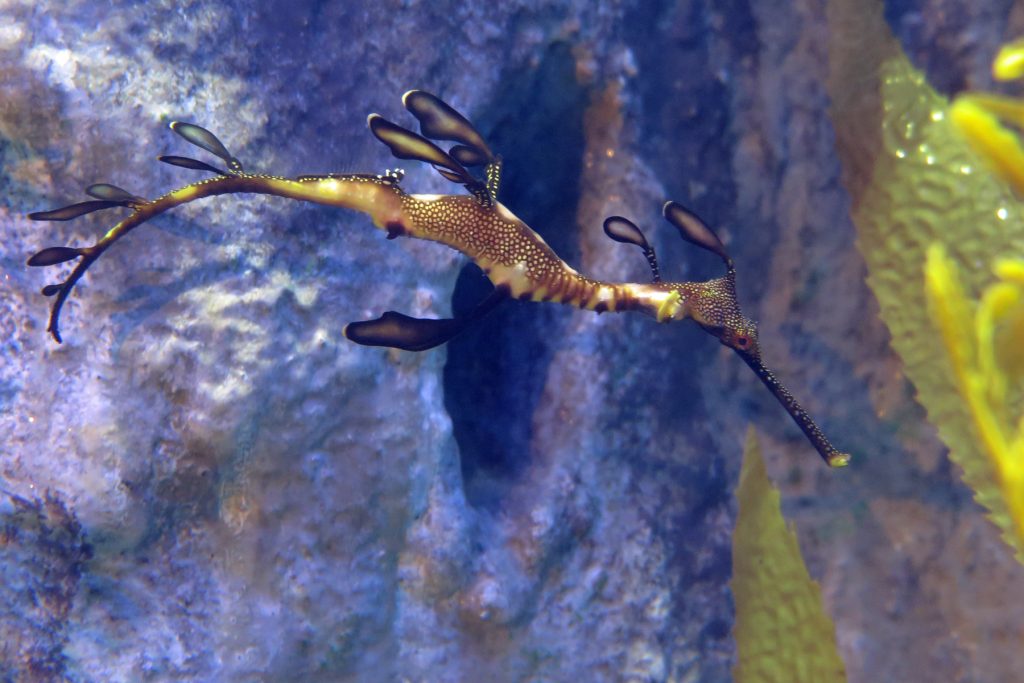 Aside from taxonomic classifications and geographic distributions, the main differences between seahorses and seadragons are physical. Seahorses are known for having a prehensile tail, which means they can use their tail to grasp onto things such as plants or even each other. Since seahorses are not good swimmers, the prehensile tail allows them to anchor themselves so they do not get swept away by currents and can remain hidden from predators. Seadragons lack this prehensile tail and rely on camouflage to avoid predation. They have leaf-like appendages to resemble the underwater plants around them, allowing them to blend into their surroundings. In addition, seadragons have slightly longer snouts than their seahorse relatives.
Another one of the main differences between seahorses and seadragons is the way they carry their young. Both seahorse and seadragon young are carried by the males, but in different ways. Seahorse males have a fully enclosed pouch into which females deposit eggs; the males carry those eggs until the young hatch. Seadragon males have a spongy patch located underneath their tail where they carry the eggs.
Besides these main differences, seahorses and seadragons are actually quite similar. At the Greater Cleveland Aquarium, we have one seahorse and one seadragon species. The next time you visit, keep an eye out for the potbelly seahorse (Hippocampus abdominalis) and the weedy seadragon (Phyllopteryx taeniolatus) and see if you can notice their differences!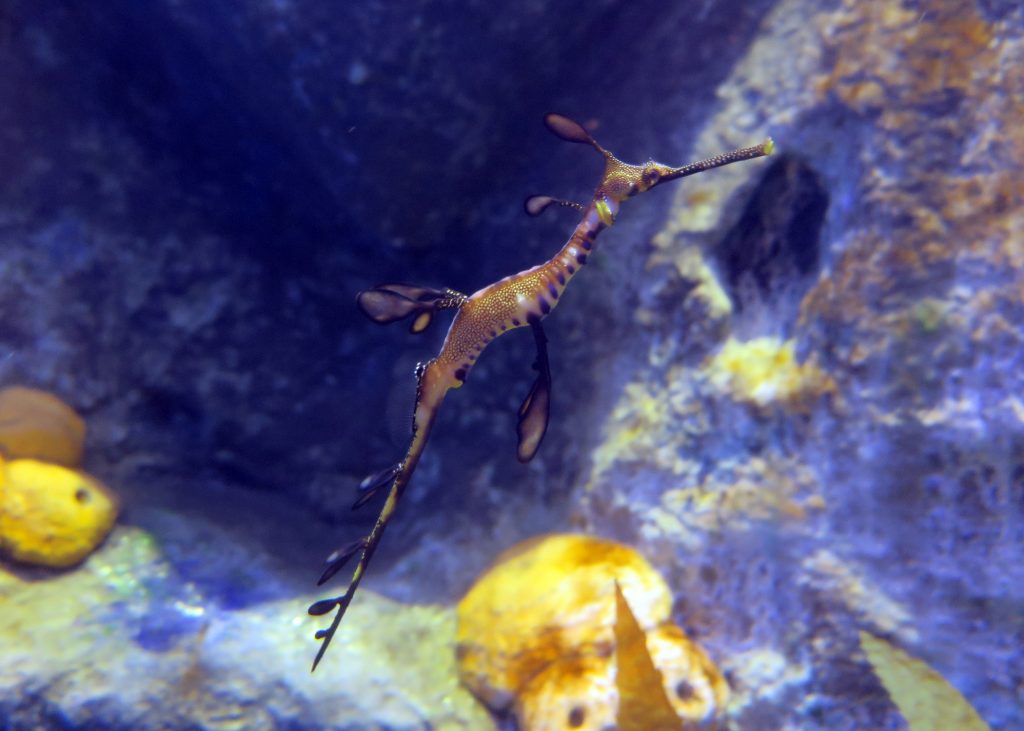 Want to know more?
• Kelly, Jasey. "The Differences between the Sea Dragon & Seahorse."
• MarineBio. "Leafy Sea Dragons, Phycodurus eques."
• Ocean Conservancy. "Wildlife Fact Sheets: Seahorse."
– Charlotte